Welcome to my blog and the latest square in the Community Garden Crochet A Long! 
If you've found your way here without knowing what the CGCAL is, please head over to the Sunflower Crochet Cottage Blog and 
read about it here
, then don't forget to come back! 
Keep reading, the free graph is at the end of this blog post!
There are 2 ways to join this event.
Collect the pdf patterns as they become available. A new square will be released every Monday, Wednesday and Friday until October 12th. Then we will join and border our blankets. The PDFs will be available either for the duration of the CAL or a couple of days, but the patterns will be available for free from the designers' blog posts for at least the duration of the CAL. The round-up below will let you know as the squares become available and what the coupon codes etc you need are. All you need to do is scroll down to that square's photo, grab the code and click the photo to be taken to the link you need.

Don't want to wait for the squares to become available? Want to start your favourites right now? Concerned you may miss something by collecting them one by one? That's OK! There is an e-book available for you to purchase for an amazing $12.99.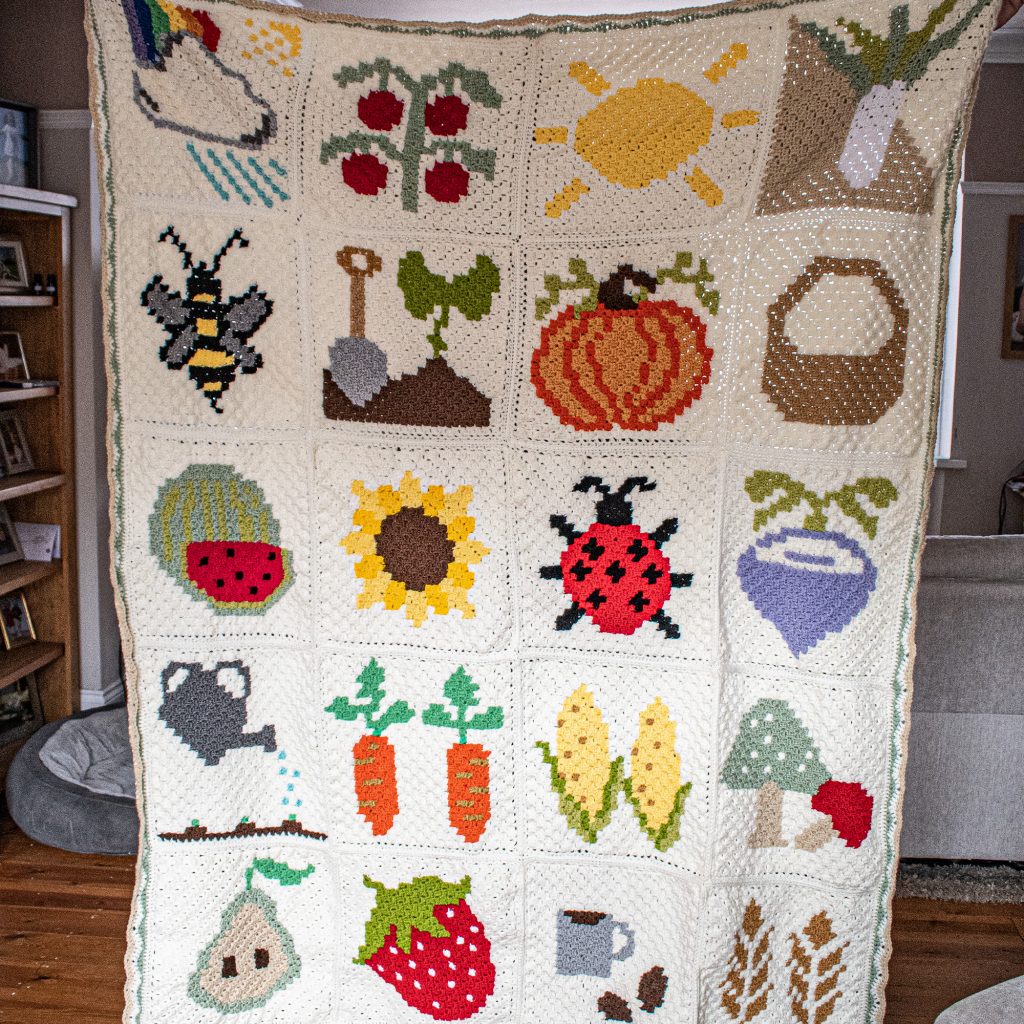 WHAT DOES THE E-BOOK INCLUDE?
The 132-page e-book has been lovingly collated and contains:
A contents page so you can easily find the square you would like to work on and print out specific pages if you do not want to print out the whole thing in one go

All 20 featured squares – chart, written and colour block instructions for each square.

PLUS 4 bonus squares that are currently not available anywhere else!

A step-by-step photo tutorial for how to do the joining method I used

Written instructions for the stunning border 

Designer credits – a list of the places to find each participating designer and how to get in touch with them. So if you would like to follow them on social media that would be welcomed!
About the Strawberry Square
Depending on your background colour, you only need three colours to make the strawberry square, red, green and white. If you want to use another background colour - then make sure you have white, off-white or even yellow for the seeds. 
I used 8ply/DK weight yarn and a 4mm hook and my square measures  35cm/ 15 inches
Helen (from Sunflower Crochet Cottage) has used Aran weight yarn (Paintbox Simply Aran) and a 5mm hook. Her squares measure approx. 46cm/18 inches. You'll also need scissors and a tapestry needle. It's a good idea to wind off sections of yarn to create bobbins, which eliminates long floats of yarn at the back of the work. 
I've been so delighted by the finished blanket, but you can make fewer or more squares - double up on your favourites, to fully customize your blanket. 
The blanket is designed using the traditional corner-to-corner method (6 chains and 3 dc/ tr (UK), but you could use the mini C2C technique (5 chains and 3hdc/htr (UK) 
NEW TO CORNER TO CORNER?
Look at Sunflower Crochet Cottage's learn to corner to corner course.
OK, now you are ready for the graph, right?
This graph will stay here, free, on my blog, and a PDF copy will be available on Ravelry if you'd like to own your own copy - please note, the Ravelry download is a chart only. Make sure you get the code before you download (Code is live on 30th September - if you are too early, check back later!)
Then once you have the code, you can download a chart from Ravelry by this link. If you'd like to share a project on Ravelry, you can also link it to the pattern page. 
Happy Crocheting, Emma. 
Copyright © 2022 Emma Wilkinson Designs All Rights Reserved No restrictions are placed on finished items made with this pattern, however, the pattern may not be resold or copied in any form. Pictures remain the property of Emma Wilkinson Designs